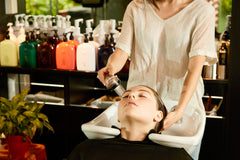 Sustainability has never been more important. With the band of plastic bags in supermarkets and plastic straws becoming a thing of the past, people and businesses are fast making the switch to a sustainable and cost saving solution while reaping the benefits.

Our eco-friendly alternatives complete the perfect salon experience for your client by offering hygienic and personalised towels and accessories with their service.

Sharon Blain, owner of Big Towel Company knows firsthand how great it is to be recognised by peers and the industry as a progressive leader in the hairdressing arena.Sharon Blain was a salon owner for over 30 years and was equally as enthusiastic about finding new products and systems that improve and benefit salon businesses.

If you are looking for ways to enhance your clients' salon experience and improve your bottom line, then keep reading and find out what a great impact going sustainable can be on your business with 6 key benefits from making the switch to eco-towels.

1. 100% BIODEGRADABLE
Made from wood fibres from spruce trees, our eco-products towels 100% biodegradable and tests show they can naturally break down naturally within the environment in less than 12 weeks. Reduce your carbon footprint!

2. SAVE $$
Save on water and electricity with laundry costs. Big Towel Company towels can save a medium sized salon approximately 42% in laundry costs. This means that for a salon that uses 200 towels a week, these innovative alternatives will cost just $88.00 per week.

3.HYGIENIC
No more cross contamination, smelly and stained cotton towels. Adding a special touch will delight and enhance your customers' salon experience.
4.REDUCE STAFF DUTIES
No unnecessary time spend in the laundry. Keep staff in the salon where they are more productive and effective.
5.PLASTIC & TOXIC FREE
Big Towel Company towels have been tested by AgResearch International, an accredited authority in New Zealand, and are guaranteed to be 100% pure, unlike any other brand on the market. Made from wood fibres that are certified renewable and have zero harmful chemicals and are all natural.

6.SUPER ABSORBENT
Soaks up to more than 10x more moisture than traditional cotton towels.
Let us help your salon become sustainable and together, let's make cotton towels history!